PWSA replacing lead water service lines this week, May 18-22, 2020, in Oakland, North Side, Southside Slopes, Lawrenceville, and Mount Washington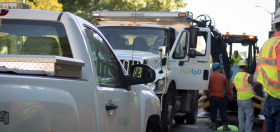 The Pittsburgh Water and Sewer Authority (PWSA) is replacing lead water service lines in several Pittsburgh neighoborhoods this week, May 18-22, 2020, to reduce exposure to lead in drinking water. To avoid partial lead line replacements, PWSA is coordinating with customers to replace private lead service lines at no cost when replacing public lead lines.
North Side
Lecky Avenue
Woods Run Avenue
Stayton Street
Woodland Avenue
Dickson Street
Grand Avenue
Luray Street
Linwood Avenue
Rockledge Street
Southside Slopes
Monastery Avenue
Monastery Place
South 18th Street
Arlington Avenue
Oakland
Dawson Street
Atwood Street
Coltart Street
Ward Street
Robinson Street
Lawrenceville
Mintwood Street
Penn Avenue
Liberty Avenue
Woolslayer Street
39th Street
34th Street
​Charlotte Street
37th Street
35th Street
Howley Street
38th Street
Mount Washington
Grace Street
Augusta Street
Sweetbriar Street
Meridan Street
Plymouth Street
West Sycamore Street
PWSA and their contractors are following strict guidelines established by the United States Centers for Disease Control and Prevention (CDC) and the Pennsylvania Department of Health related to the pandemic. The following measures are to protect the health of employees, contractors, and customers. As long as it is recommended by the CDC and PA Department of Health, all our PWSA work will occur under the following guidelines:
All workers will undergo daily health screenings prior to reporting to work.
All employees will maintain social distancing in the execution of their work, including when communicating with customers.
All employees will wear face masks during their work.
All work surfaces workers are in contact with will be sanitized prior to leaving the work site.
All work sites will be provided with portable hand-wash facilities or hand sanitizer.
If a private lead service line is found at a customer's home, PWSA will replace the line with a non-lead material. This will require some contractors and a Lead Help Liaison to enter the customer's home. If property entry must occur, PWSA contractors and Lead Help staff will follow the guidelines above in addition to these measures:
The Lead Help staff will reach out to customers via phone call before a scheduled home visit and will ask them the same health screening questions PWSA asks its workers. If there are any health concerns, Lead Help Staff will reschedule the visit.
Limit the number of people entering the home.
Any necessary in-person discussions will occur at a safe distance or will take place outdoors, if possible.
Please note that the schedule is weather dependent and subject to change.
To view PWSA's lead service line replacement locations and to learn more about the service line material at your property, go to pgh2o.com/leadmap. Any customer who needs additional information should call the PWSA Lead Help Desk at 412-255-8987 or email at LeadHelp@pgh2o.com.