Moving to Yellow Phase on Friday, May 15: Mayor Peduto & County Executive Fitzgerald release statements on initial steps to reopening Allegheny County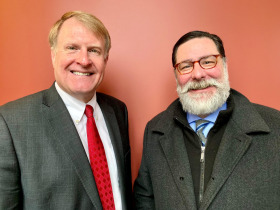 Mayor Bill Peduto and Allegheny County Executive Rich Fitzgerald both issued srtatements following Governor Tom Wolf's announcement that Allegheny County (and other counties statewide) will be moving into Yellow Phase of coronavirus mitigation on May 15, 2020.
On Friday, May 8, 2020, the Wolf administration announced that it will begin reopening 24 counties across Pennsylvania by entering the "yellow phase" of his color-coded reopening plan – allowing businesses to resume in-person operations and residents to freely leave their homes under precautions. The counties moving to yellow immediately include Bradford, Cameron, Centre, Clarion, Clearfield, Clinton, Crawford, Elk, Erie, Forest, Jefferson, Lawrence, Lycoming, McKean, Mercer, Montour, Northumberland, Potter, Snyder, Sullivan, Tioga, Union, Venango, and Warren.
Visit the commonwealth's website for details on Governor Tom Wolf's guidelines for the process of reopening Pennsylvania and guidance for businesses permitted to operate during the COVID-19 disaster emergency to ensure the safety and health of employees and the public.
Peduto said: "I want to thank Governor Wolf for recognizing all that the greater Pittsburgh community has done to mitigate the spread of this pandemic, and allowing us to take initial steps toward reopening our city and our economy. But we are far from beating this – Pittsburgh residents, workers and visitors need to keep focusing on social distancing, not leaving home if they are sick, wearing masks, washing hands and generally just being smart about fighting this still-spreading disease.
We owe it to our city's heroic medical personnel and first responders to keep being vigilant, and we must do much more to test the greater population and to contact trace anyone who has tested positive for the virus. I have offered the assistance of the City of Pittsburgh to help implement these needed testing and tracing measures."
Fitzgerald said: "We are delighted with the Governor's announcement today that the Southwest region will move into the yellow phase beginning next Friday. This decision is a reflection of the great work that the residents of Allegheny County and our neighboring counties have done following the advice of our medical experts.
"This is also good news for so many in our community who have been impacted economically because of the COVID-19 pandemic. We're thrilled for the businesses and residents who will return to work, but also recognize that there are many more that will still be without.
"This community has always worked together and risen to the challenges and the COVID-19 pandemic is no exception. We recognize that it hasn't been easy, and that we still have a long way to go. This won't be a short process. As we begin to expand what businesses can operate in our region, we must stay vigilant and continue to follow the mitigation measures that are in place."
Mr. Fitzgerald also said work will continue with health-care providers to increase testing, do contact testing and case investigations, address outbreaks and other issues and "work closely with all of our residents and businesses to be certain that we are ready to move forward."
Sources: Press releases from the City of Pittsburgh and Allegheny County, this Pittsburgh Post-Gazette article and another article, and KDKA Radio
Image Credit: Megan Harris, 90.5 WESA