Traffic calming requests paused in Pittsburgh while DOMI implements new, improved system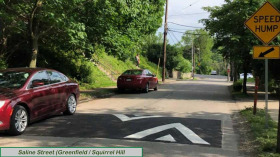 Pittsburgh's Department of Mobility and Infrastructure (DOMI) has temporarily stopped accepting new applications for traffic calming requests – citing the Neighborhood Traffic Calming Program's demand and success as the reason. DOMI's current system for managing applications and requests simply needs to be updated in order to streamline the process for all, so the department is working with Innovation & Performance's GIS and Cartegraph teams to create a map-based system that will illustrate eligible locations, provide a portal to submit applications, and show the status of traffic calming applications.
In order to create the new system, DOMI has had to stop processing new applications. This temporary pause began December 31, 2022, and the tentative plan for re-opening applications through the new system is May 1, 2023.
During this interim period, residents may still submit a 311 request under "Traffic Calming", however, DOMI will not be able to respond to these requests for traffic calming until Spring 2023 at the earliest – presumably given the existing backlog. (The new form process is in beta testing phase now and currently on track to come online in the spring.)
Source: City of Pittsburgh
Related: DOMI is also requesting that community members share their paving requests as soon as possible.
Each year, DOMI consults with City Council members, community groups, residents, and the 311 system in order to assemble its list of paving projects. Staff and engineers create an annual list based on the following criteria:
Street Overall Condition Index (OCI) – Every street in Pittsburgh has an OCI score based on physical condition. Once the condition of a street deteriorates past a certain threshold, it is given priority on the annual paving list.
Street Use – Streets are categorized as either Primary, Secondary, or Tertiary, with primary roads seeing the most use. This typically results in their OCI score dropping more quickly than secondary or tertiary streets.
Equity – DOMI applies this metric to the paving list to ensure that tax dollars are applied in a fair and impartial way, so that streets in neighborhoods with a higher need receive an increase in their OCI score.
So if you're street is in need of repaving, please email submit a 311 detailing the need for improvements in order to maximize the chances of selection for the annual paving list.
If you're not already aware, DOMI also offers a "Paving Dashboard" which is a GIS tool allowing citizens to track City paving projects over the previous five year period – breaking down historical data by program, contractor, paving type, road classification, street type, neighborhood, and Council district. It's a nice resource for anyone curious about where paving has (and hasn't) taken place since 2017. (Another GIS tool from DOMI is their "Obstructions Map" which provides a citywide view of road closures, delays, or obstructions that may result from DOMI street projects. It's still in beta testing, so shouldn't be relied on for real-time data, but it can be helpful to understand why certain blocks are experiencing slowdowns at any given time. There's also a Crash Data Dashboard, as well.)
Note: City Council office recommendations are only one factor in the above framework, but our Council members advocate firmly for streets that need to be revamped across districts 3, 6, and 8 (which primarily make up the Oakland area), as well as nearby districts 1, 5, and 7, and all others, so you can also submit requests directly to City Council so it is on your Councilmember's radar, as well. Not sure which District you're in? View the City Council District Map
Source content primarily from City Council District 8 office of Erika Strassburger