PRT accepting applications for new Bulk Pass Pilot Program for businesses and multi-family building managers to purchase group transit passes for employees/tenants at steep discounts (74%)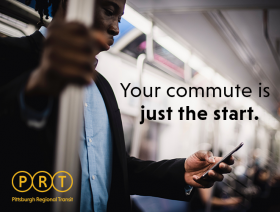 According to the PRT website, "Pittsburgh Regional Transit's new Bulk Pass Pilot Program allows businesses and multi-family building managers to buy unlimited-ride passes for their employees or residents at deep discounts."
The discount is substantial – at a rate of $25/month (74% savings from the standard $97.50/month). Employers and building managers with 10 or more employees/residences/units located within a 1/2-mile of transit access may be able to utilize the new program as an effective way to attract and retain employees/tenants with added benefits that reduce their transportation costs and improve their quality of life.
Applications for the 6-month pilot period can be submitted online using PRT's web portal here.
The application process is certain to be competitive, so PRT has offered some tips for applicants by making clear their selection criteria:
Make clear how your proposal addresses the goals of the program as well as who would benefit from increasing transit ridership, reducing congestion and the need for parking, and helping Allegheny County residents and businesses reduce their carbon footprint by making healthier, more sustainable transportation choices about how they get around
Additional considerations will include a demonstration of other efforts by the applicant that support transit use and other active modes of transportation like walking and cycling, as well as a discussion of how data gathered during the 6-month pilot period would help you provided passes in the future
PRT has made the process of identifying whether you're business or multi-family residence is eligible by providing an easy to use map highlighting properties within the "1/2-mile of PRT fixed transit routes" requirement. It's available on their website along with the application link.
Source: Pittsburgh Regional Transit