Pittsburgh Regional Transit receives $28.4 million from Federal Transit Administration to modernize four light rail stations to become fully accessible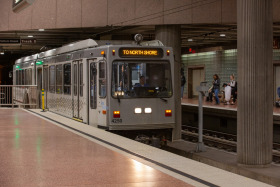 From FTA social media: Pittsburgh transit riders with disabilities, people with children in strollers, and people with mobility challenges will soon experience improved access to the Pittsburgh Regional Transit Red Line.
Pittsburgh Regional Transit has received $28.4 million to modernize four light rail stations with high platforms for level boarding and ramps, making the stations fully accessible to riders traveling to downtown Pittsburgh, Castle Shannon, and Bethel Park. Senator Casey's work to co-sponsor the All Stations Accessibility Program will help PRT reach its goal of making their rail stations ADA accessible.
From FTA press release: The U.S. Department of Transportation's Federal Transit Administration (FTA) today announced 15 grants in nine states to help make it easier for people with disabilities and mobility needs to access some of the nation's oldest and busiest rail transit systems through essential upgrades, such as elevators. Funded by President Biden's Bipartisan Infrastructure Law, the approximately $686 million in grants represents the first round of funding from the new All Stations Accessibility Program, which is designed to improve the accessibility of transit rail stations so everyone, including those who use wheelchairs, push strollers, or cannot easily navigate stairs, can reliably access the rail systems in their communities.
Inaccessibility is a significant hurdle for riders using rail systems built before 1990, known as legacy systems. More than 900 transit legacy stations are not fully accessible today. The All Stations Accessibility Program provides support for transit agencies to repair, improve, modify, retrofit, or relocate station elements or facilities for passenger use. President Biden's Bipartisan Infrastructure Law provides $1.75 billion for this important program over five years.
Some of the other selected ASAP projects include $245 million for the New York Metropolitan Transportation Authority, $118 million for the Chicago Transit Authority, and $56 million for the Southeastern Pennsylvania Transportation Authority. Projects were selected for funding based on criteria described in the Notice of Funding Opportunity for which FTA received a total of $905 million in funding requests.
Source: Federal Transit Administration