Latest leg of the Mon/Fayette Expressway connects Route 51 to I-376 bringing commuters from Jefferson Hills to Monroeville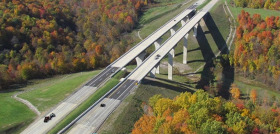 In mid-January this year, the Pennsylvania Turnpike Commission was awarded the first construction contract to begin work on the latest, southern section of the Mon/Fayette Expressway connecting Route 51 to I-376.
It runs from Route 51 in Jefferson Hills to Route 837 in Duquesne. The estimated $1.3 billion project was able to move forward with the passing of Act 89 which provided a funding stream for the project mandated by the state legislature to build back in 1985 to boost the economy of the Mon Valley.
"This long-awaited project represents a significant investment in the Mon Valley that will not only enhance mobility in the area, but is expected to bring economic opportunities to the region," said PA Turnpike Commissioner Sean Logan.
Trumbull Corporation was awarded the nearly $214 million contract to build the first section – which lies mostly in Jefferson Hills, but also reaches into West Mifflin and Clairton. A public meeting is expected to be held in February explaining the scope of work. Details will be announced soon.
Last year, JMT was awarded a $20 million contract to oversee construction of the entire 8-mile southern section which is divided into seven separate construction sections stretching through Jefferson Hills, West Mifflin, Clairton, Dravosburg, and Duquesne. The entire project is expected to take approximately six years to build – with portions opening for public use as they are built.
The Mon/Fayette Expressway (PA Turnpike 43) currently stretches 54 miles form I-68 near Morgantown, WV to Route 51 in Jefferson Hills.
Source: PA Turnpike Commission