Frazier Street Steps to receive $1.4 million upgrade with funds from the American Rescue Plan, and an additional $7 million infusion of federal funds is earmarked for Pittsburgh to repair other city steps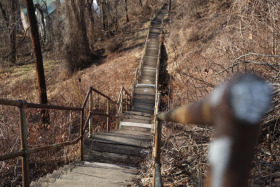 The City of Pittsburgh received $7 million in federal money to repair and replace city steps as part of the trillion dollar spending bill passed by Congress last year. It marks the largest infusion of funds to repair our city steps in recent memory, but because there is a dire need for repairs across the city, the funds are expected to only help a small fraction of the total city step systems in need of repair.
"It's just a drop in the bucket," said Emily Bourne, a spokesperson for the City of Pittsburgh's Department of Mobility and Infrastructure in an interview with WESA. "But it's a large drop."
The City does have a short list of steps that could be improved with this funding, but it has not yet shared which steps those are as the totality of repairs are examined to see what the budget may cover. According to Chief Engineer for DOMI, Eric Seltzer, repairing a single set of steps can cost between $500k and $1.5million, so the number of steps that get repaired will depend in part on which steps are chosen based on several factors including:
How often the stairs are used
Their proximity to transit stops and schools, and
The distance someone has to travel to make the same trip if the stair system were closed or not accessible
"That's a balancing act, looking at the highest priority steps and then a little bit of art and science in there about which one to pick to try to get the most bang for our buck," said Seltzer.
There are three steps projects that are already funded with COVID-relief funding:
The $7 million award was the largest federal earmark in western Pennsylvania and the second largest in the state out of a total 92 projects that PA received funding for this year.
For background on how these types of repairs are typically funded by comparison, bridges and large projects have dedicated state and federal funding streams, but work on city steps does not. Bridge replacement, for example, requires a 5% contribution from the city, but replacing city steps historically falls entirely on the city's budget, and in recent years, the city hasn't prioritized it according to WESA. Before the pandemic, the city was allocating less than $1 million per year to the city steps in its capital budgets, and over the last two years, the city has allocated nearly $4 million of COVID-relief funds in its capital budgets to repair and replace a handful of steps.
Many of the steps in our city were built in the 1940s with a roughly 70-year life span, so logically steps all across the city are beginning to need serious attention at the same time. The city's decline in population (by more than half since the steps were constructed), however, means that many of the stairways aren't used nearly as much as they once were – especially since many of the factory jobs that people used to use steps to walk to no longer exist.
The City came up with criteria for prioritizing step repairs in 2018 – based in part on public input – and created an online map that lists the vast majority of the city's steps along with how urgent repairs are needed, but the map is already a little out of date with some steps that look like they need repairs on the map already having been repaired, for example, but it's still a nice resource to view the complexity and sheer number of step systems across the city.