City of Pittsburgh's comprehensive report on the state of city-owned bridges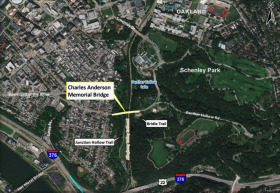 In late December 2022, the City of Pittsburgh released the latest report from the Comprehensive Bridge Assessment Management Program which intended to provide an accurate report on the state of city-owned bridges. The program was launched in Spring of 2022 in response to the unexpected collapse of the Fern Hollow Bridge on January 28, 2022.
The report has gained new-found interest again this week in light of the immediate closure of the Charles Anderson Memorial Bridge along the Boulevard of the Allies in Oakland for emergency repairs that are expected to take 4 months in advance of the already planned complete rehabilitation project that began in 2019 and is slated for construction in 2025.
Source: City of Pittsburgh